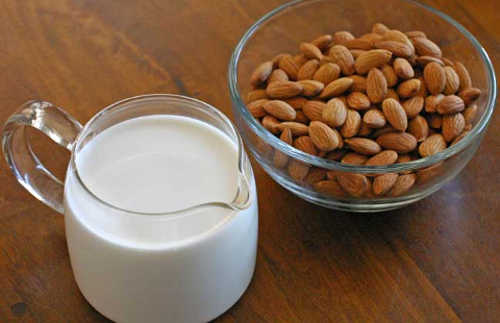 Delicious & Healthy Almond Milk
Almond milk has got many health benefits. Fresh raw almonds are delicious, healthy and economical at the same time. Let's look at various health benefits that almond milk has:

1. Lowers risk of heart disease: As almond milk has got no cholesterol it helps decrease harmful cholesterol levels in blood. It takes care of your heart by minimizing the blood cholesterol.

2. Aids weight loss: Almond milk is always the best alternative to dairy milk. If you are taking diet for weight loss, you do not need to stop drinking milk. Almond milk has got about 60 calories per 8 Oz servings that proves to be weight loss friendly.

3. Kidney health: Potassium and phosphorous has properties that are responsible for damaging kidney.

4. Blood sugar friendly: Almond milk comprises of about 8 Oz of carbohydrates per serving as regular milk. Having almond milk excluding sugar proves to be blood sugar friendly. Almond milk has got a little of glycemic property that leads to diabetes controlling.

5. Stronger bones: Almond milk has got good amount of calcium and vitamins. Presence of about 30% calcium and 25% vitamin D directly has a role in building up of strong bones.

6. Healthy eyes: Vitamins like A, E and D are found in abundance in almonds. Vitamin A contributes to improve your eyesight by providing proper functioning and also helps in getting adjusted to different lights.

7. Skin care: Vitamin E content in almonds high antioxidant levels that gives a glowing skin. People who are beauty conscious can get easily adapted to almond milk instead of having regular milk.