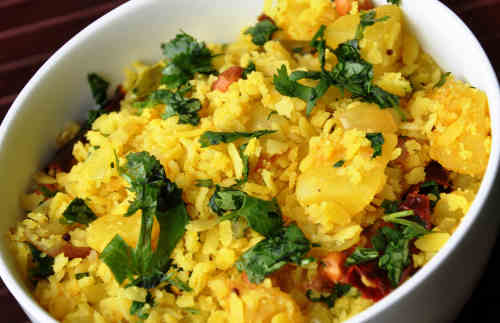 Poha - The healthy breakfast
Indian food and breakfast differs from region to region. We will never get bored having the same thing everyday. Choices are immense and that differs in flavour, colour, taste, etc. In urban parts of India most people prefer to have share of oats, sandwiches and cornflakes nothing than combat the goodness of normal Indian breakfast.

Here's the recipe of poha which is a very common breakfast item in many Indian households especially in western Indian states like Gujarat and Maharashtra.

Poha
Ingredients:
2 Cups poha
1 Potato, small cubes
2 Green chillies, sliced
A jandful of peanuts
1 tsp lemon juice
2-3 tsp sugar
Salt to taste
1 tbsp oil
2 tsp mustard seeds
2 tsp turmeric powder
Curry leaves
Coriander leaves for garnishing

Method:
Wash poha and rinse well. Drain all the water and keep aside for 15 minutes. Heat oil in a pan. Add mustard seeds. When they splutter, add curry leaves, peanuts and green chillies. Take care not to burn the peanuts. After the peanuts are fried, add the small cubes of potato. Allow the potato to cook well. Then add the poha. Mix well and add the turmeric powder. Once it gets mixed well, add sugar, salt, lemon juice. The poha shouldn't be too dry. Garnish with coriander leaves. In some Gujarati households, they also garnish it with pomegranate seeds.