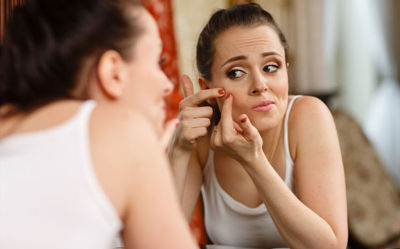 Bad habits that cause acne
Acne is a problem that is there with you throughout the year. And the problem increases during the party season because you want a zit-free face. Some of the ditch habits that cause acne are :

Opting for wrong products
There are a lot of products available in market that claims to be good for your skin. They might bear an adverse effect on your skin by blocking the pores on your skin. This would certainly give rise to acne at a later stage.

Not cleansing skin thoroughly before bedtime
It is very important to clear the make up immediately after it's use to prevent acne formation. Use a makeup remover first, then follow it up with a cleanser. Wash off thoroughly and then use a toner. Now slather on some rich moisturizer.

Using makeups with ingredients that can cause irritation
There are many ingredients used in the preparation of make up and sunscreen which helps you to break out. The ingredients such as the artificial colors, odour, fragrance etc can result in blemishes and acne problems.

Over-dry your face
Various make up removal agents such as cleansers, alcohol based toners etc may cause irritation to your skin. The phenomenon of rebound oiliness and presence of oil content may may give rise to acne.