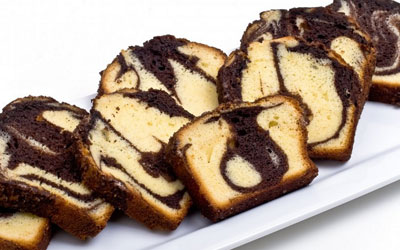 Chocolate Marble Cake
Cake is often the dessert of choice for meals at ceremonial occasions, particularly weddings, anniversaries, and birthdays. There are countless cake recipes; some are bread-like, some rich and elaborate, and many are centuries old. Cake making is no longer a complicated procedure; while at one time considerable labor went into cake making, baking equipment and directions have been simplified so that even the most amateur cook may bake a cake.

Ingredients:
Butter(softened): 225 gm butter,
Eggs:4
Self raising flour: 225 gm
Milk: 3 tbsp
Vanilla extract: 1 tsp
coco powder: 2 tsp.

Method:
Heat oven to 180 degree Celsius. Grease a 20 cm cake in tin and line the bottom with a circle of baking paper. In a large bowl, beat butter and sugar together, then add eggs, one at a time, mixing well after each egg. Fold through the flour, milk and vanilla extract, until the mixture is smooth. Divide the mixture in two separate bowls. Add coco powder in one.
Take two spoons and use them to dollop the chocolate and vanilla cake mixes into the tin alternately. When the mixture has been up, tab the bottom of the tin to ensure that there are no any air bubbles. Take a skewer and swirl it over the mixture in the tin a few times, to create a 'marble' effect. Bake the cake for 45-55 minutes. Turn the cake out on a rack and leave to cool.