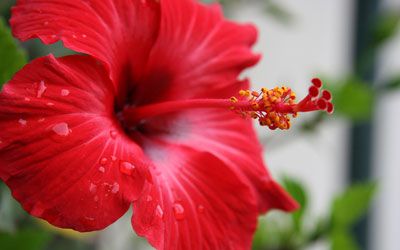 Is Hibiscus the new drug to cure Diabetes Naturally
Just like any form of flu, cough and cold, diabetes has become a common disease these days. As of now, there is no particular cure for diabetes. One has to have a healthy lifestyle and also a healthy eating and living pattern to overcome this situation.

Researchers at Assam's Tezpur University and West Begal's Viswa-Bharati University have come to a conclusion that the natural essence and extracts from some particular species of hibiscus plant can help in curing diabetes.

Samir Bhattacharya, emeritus professor, School of Life Sciences (Zoology Department) at Visva-Bharati in Shantiniketan was quoted saying to a news agency: "We found that ferulic acid (FRL), belonging to the polyphenols, extracted from leaves of the plant, has the potential to be a better therapeutic agent for diabetes".

Diabetic patients have high risk of getting blood pressure too. Research has shown that enjoying or having hibiscus tea on a regular basis is an effective way for curing diabetes with mild to moderate hypertension to lessen their BP levels.

Tea that contains Hibiscus can provide additional health benefits to diabetic patients by enhancing and improving their blood-cholesterol levels.

Scientific studies have proven that regular consumption of this herbal tea containing Hibiscus can increase the HDL cholesterol and reduce 'bad' (LDL) and overall cholesterol levels for diabetics. Hibiscus contains high levels of vitamin C, Iron absorption levels, antioxidant effects and also protection against common cold and flu.