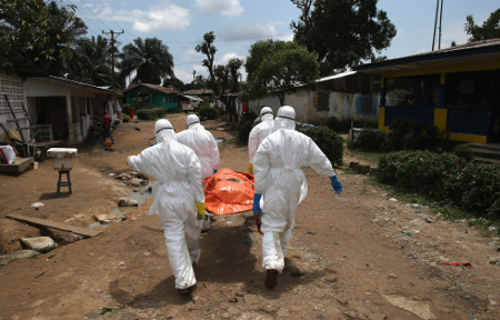 Ebola death toll hits 8,235 : WHO
The global death toll from the Ebola outbreak centered in west Africa has jumped to 8,235 out of 20,747 recorded cases, the World Health Organization(WHO) has said. Almost all the deaths and cases have been reported in the three west African countries worst hit by the outbreak: Sierra Leone, Liberia and Guinea. Elsewhere, six people have died in Mali, one in the United States and eight in Nigeria, which was declared Ebola-free in October.

Spain and Senegal, which have both been declared free of Ebola, had one case each but no deaths. In Britain's first confirmed case of Ebola, a nurse recently returned from Sierra Leone was on Monday said to be in a critical but stable condition.

Sierra Leone, which has overtaken Liberia as the country with the most infections, counted 9,780 cases and 2,943 deaths as of January 4. The country reported 248 new confirmed cases in the week leading up to Sunday, with the west of the country, including the capital Freetown, hardest hit. The WHO said, yesterday, however there were "signs that case incidence may have leveled off" in the country. Liberia, long the hardest-hit country, has seen a steep decrease in transmission in recent weeks. As of January 2nd, the country had recorded a total of 8,157 cases and 3,496 deaths. Liberia, which in August and September was reporting more than 300 new cases each week, only reported eight new confirmed cases and 40 probable cases from Monday to Friday last week.