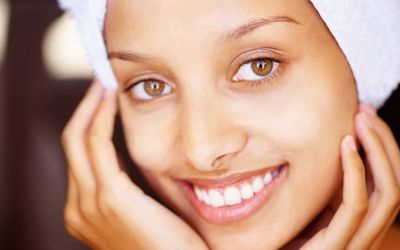 Ways to transform your complexion within minutes
1. Water to your rescue:
As doctors suggest, drink a minimum of eight glasses of water on daily basis. You can also increase your water intake by 10-12 glasses gradually. Water is magic for the skin. It instantly perks your skin and makes it look nourished and well-hydrated. If you just have one or two glasses of water before you step out of your house and keep sipping on it through the day, it will keep your skin glowing for a long time.

2. Opt for a brightening mask:
Though there are several face masks which make your skin look healthy, a brightening face mask instantly perks your skin and helps your skin achieve a flawless look within minutes. If you do not have the time to apply a brightening face mask, you could always squeeze a lemon and rub a few drops of it on your face before you wash it off with lukewarm water. Lemon contains brightening properties and lightens your skin instantly.

3. Snack on Vitamin C:
A dose of vitamin C just before you step out of your house will bring a glow on your face. Vitamin C has the power to brighten your complexion and keep I glowing for a good amount of time. Thus, half an hour before you step out, make sure that you have a glass of orange drink on a daily basis so that your skin stays fresh and glowing.