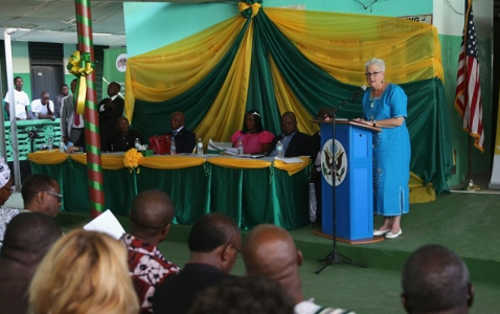 Ebola vaccine trial on volunteers begins in Liberia
The actual trial of Ebola vaccine has begun in the Liberian capital Monday on the first batch of volunteers.

The vaccination trial, which started following a launch event featuring musicians, is a product of a partnership set up by the governments of Liberia and United States. Guests clapped, danced along and nodded as musicians sang lyrics that explain the purpose and intent of the Ebola vaccination trial. Liberians have not shown much excitement about the vaccines amid conspiracy theories. Liberian Vice President Joseph Nyumah Boakai launched the vaccines in the presence of top US Embassy and World Health Organization officials on Sunday.

The vaccines are "very important for Liberia and for the world", Boakai was quoted as saying to AP. Boakai urged Liberians "to take courage because it is going to work".

The vaccines contain a bit of Ebola virus that helps trigger an immune response against the virus, according to a document from PREVAIL, the acronym for Partnership for Research on Ebola Vaccines in Liberia, as the US-Liberia collaboration is called.

According to the BBC, scientists aim to vaccinate around 30,000 volunteers and health care workers in the country starting Monday. The Ebola outbreak in West Africa has killed nearly 9,000 people with 3,600 succumbing to the disease in Liberia alone since it was identified in March.