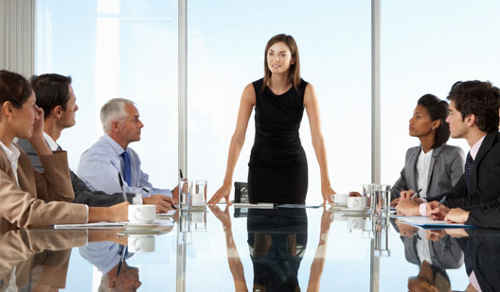 How to lead like a lady
A female personality can also become a leader to lead a team. There are certain tips that you could follow in order to achieve that stand:

Be bold and courageous: What exactly matters is the situation whether good or bad determines your mettle. Your team would never accept your hesitant and fumble attitude. The characteristic and nature that most men do not show off when their going gets really tough.

Be authoritative, not bossy: When the bossiness comes from a woman leader men can become sensitive. The key lies in the authority to get the work done properly. In such a manner that would make you feel an integral part in the overall scheme of everything and every work you carry out.

Be resourceful: How often have you caught yourself feeling left out of a conversation regarding politics, sports, cars, travel, etc? These are unavoidably some of the favourite topics in male-to-male conversations. Focus on developing your knowledge by keeping yourself abreast with current affairs and other relevant stuff that will help you to have smart and meaningful chats. Simultaneously build your business acumen by networking and researching right to guide you to take informed decisions.

Keep personal and professional life separate: As women carry out many things at a time both at home as well as at work place, they are genetically wired to do multi-tasking between home and work. Remember that when you strongly believe in your innate capabilities, the same is shown in front of your team.