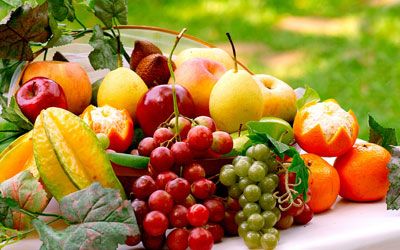 Many Importance Of Fruits
Try Fruit Treatments for a glowing Skin
Bananas help maintain elasticity of the skin, strawberries give exfoliation and cleanses your skin. It is seen that fruits will help in having a glowing skin.
Banana:
It is a rich source of vitamin and minerals including potassium, manganese, biotin, vitamin C and B6. The vitamins maintain the elasticity of the skin and the antioxidants prevent aging.
Orange:
Like most citrus fruits it contains a high level of vitamin C along with beta carotene, folic acid, phosphates, iodides, iron, phytonutrients and flavonoids. These components help to treat dark spots and blemishes.
Strawberry:
It contains a higher level of vitamin C and manganese which helps to exfoliate and cleanse the skin, lightens age spots and freckles. Strawberries also prevent thinning of hair and give it a glossy shine. It can be used as an exfoliator in foot scrubs.
Tomato:
It is rich in vitamin A, C & K. it acts as an antioxidant in preventing aging and is used widely as a whitening and de-tanning agent.
Grapes: They have phytochemicals and phytonutrients which are antioxidant and anti-inflammatory in nature helping regeneration and healing of skin. Apple:
It contains vitamin C which helps to boost collagen and tightens the skin. It also has copper which is important for melanin production and vitamin A with other antioxidants which control acne, decrease dark eye pigmentation and increase hair growth.