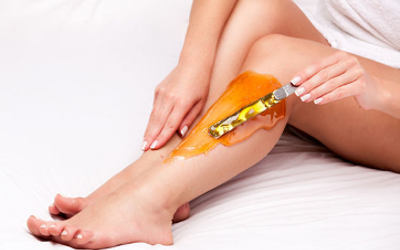 Make hair removal wax at home
At times women run so much out of time that they hardly find any time to look after themselves and their skin. Waxing at home is the most safest way of getting rid of unwanted hair from your body. There might be times when you can't make it to the salon to get your waxing done.

You could very well make hair removal wax at home. Take a saucepan and heat some sugar in it. Keep stirring until it starts melting. Let the sugar caramelise. If you think that the mixture is too thick, add a little water to it and keep mixing. Once the mixture is ready, take it off the stove and keep it at room temperature for about an hour and allow it to cool down.

Benefits of using homemade wax

1. Since the wax is made using natural ingredients, it makes your skin soft and glow.
2. You are not likely to develop any skin rash or infections by using homemade wax.
3. It will remove the hair as well as will also moisturize your skin.
4. Homemade wax lessens the production of hair, so the next time you wax, you will realize that the hair growth has considerably reduced.
5. It will exfoliate your skin and also open the pores of your skin to allow the dirt to get out.