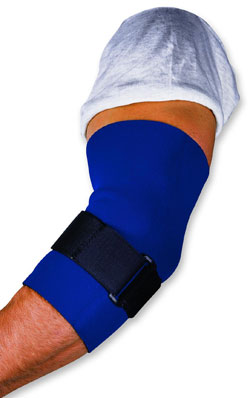 Tennis Elbow Eradication With Stem Cell Injection
Tennis elbow or lateral epicondylitis arises from overuse of arm, forearm and hand muscles resulting in elbow pain. It got its name because it can be a headache for some tennis players.
Tennis elbow is an acute or chronic inflammation of the tendons joining the forearm muscles on the outside elbow (lateral epicondyle). Repeating the same movements again and again damages the tendons and the forearm muscles which leads to inflammation, pain and tenderness on the outside elbow. Any activity, including playing tennis, which involves the repetitive use of the extensor muscles of the forearm can cause acute or chronic tendonitis. It is seen commonly in carpenters and other laborers who repeat the same action of the elbow.
Symptoms associated with tennis elbow are not only radiating pain from the outside of the elbow to the forearm and wrist, pain during extension of wrist, weakness of the forearm, a painful grip while shaking hands or torqueing a doorknob, and not being able to hold relatively heavy items in the hand, but also many others. Golfer's elbow also has similar symptoms but it occurs at the medial side of the elbow.
You can know you have tennis elbow, if you have
1. Pain on the outer elbow (lateral epicondyle)
2. Point tenderness over the lateral epicondyle
3. Pain from gripping and movements of the wrist, especially wrist extension and lifting movements
4. Pain from activities like pouring a container of liquid, lifting with the palm down, sweeping, especially where wrist movement is required.
Morning stiffness
The main reason for tennis elbow is over exertion. Recent studies show that direct blows to the
epicondyle, a sudden forceful pull, or forceful extension can also cause it. Incorrect methods of
tennis playing is also a culprit for tennis elbow.
A person can be diagnosed of tennis elbow by performing a battery of tests,for example he places
pressure on the affected area while asking the patient to move the elbow, wrist, and fingers. X-
rays can distinguish the causes of pain from that of fracture or arthritis. You can also diagnose
using medical ultrasonography and magnetic resonance imaging, but are avoided due to the high
cost.
There are four stages to this tennis elbow depending upon severity and quantity of multiple
tendon injuries. They are
1. Reversible inflammatory changes
2. Nonreversible pathologic changes
3. Rupture of ECRB muscle origin
4. Secondary changes such as fibrosis or calcification.
Approximately 80-95% of all tennis elbow cases can be treated without surgery. In rare cases,
tennis elbow symptoms mend without any treatment, within six to 24 months. But if left untreated,
it can lead to chronic pain that degrades the quality of daily living.
Several recommendations are there regarding prevention, treatment, and avoidance of recurrence.
Simply relaxing the affected arm will be a way to help treat minor cases of tennis elbow. The rest will allow the stress and tightness within the forearm to slowly relax. Eccentric exercise using a rubber bar is highly effective at eliminating pain and increasing strength.
Joint manipulation directed at the elbow and wrist and spinal manipulation directed at the cervical and
thoracic spinal regions results in clinical changes to pain and function. Low level laser therapy also offers short-term pain relief and less disability in tennis elbow, both alone and in conjunction with an exercise regimen. Lately, dry Needling has been gaining popularity in various types of tendinopathies and pain of muscular origin.
Topical non-steroidal anti-inflammatory drugs (NSAIDs) may be good in the short term. Poor improvement are found from injections of any type, be it corticosteroids, botulinum toxin, prolotherapy or other substances. Corticosteroid injection may be effective for short term.
Complications from repeated steroid injections include skin problems such as hypopigmentation and fat atrophy leading to indentation of the skin around the injection site. Botulinum toxin type A can be used to paralyze the forearm extensor muscles in those with chronic tennis elbow.
Recent studies show that stem cell injection are very effective, i.e. patients are receiving jabs of their own cells in an attempt to heal hard-to-treat tendon injuries, such as tennis elbow. Scientists believe stem cells having the ability to turn into different types of cells in the body would provide a more effective solution. This might be because stem cells can employ compounds called growth factors that helps in the regeneration of damaged tissue.