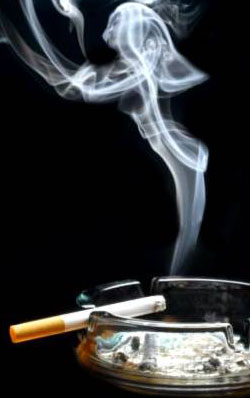 Second Hand Smoking (Passive Smoking)
It is a very popular saying, where there is a smoke, there is a fire'. Similarly, wherever there is a second hand smoker, there is fire- storm of controversies. There is not much to argue about the dangers caused by second hand smoking. Several studies carried out in various places, shows that the arguments are real.
The problems created for non- smokers are more, when they are exposed to such smoke. The smoker who inhales the smoke directly is actually taking in only two third of the smoke from the cigarette. The cigarette possesses a filter, which filters and cools the smoke that is taken in.
The smoke coming out, spreads directly in the surrounding air and enters easily into the non- smoker's lungs. Such unfiltered smoke contains about 50 chemicals that are known to cause cancer for sure.
Scientific studies have proved the side stream link between smoking with lung cancer. Several cases of death due to cancer in nonsmokers have been reported. The harm is not confined to the lungs alone, but it also adversely affects the heart and the arteries.
It doubles the risk of heart diseases, when exposed for long periods of time. It may be either at home, or at work. The arteries also seem to get hardened after prolonged exposure to passive smoke.
Along with the above stated major illness, several other worsened health problems like asthma, bronchitis and middle ear infections may also arise. Cancer of the brain, sinuses, breast, uterus and cervix and even leukemia have also been reported.
Children are particularly at risk from second hand smoking, as their body is in a developing state. By smoking, parents are providing their children "a lethal legacy". Often children who are exposed to passive smoking at home, are at high risk of respiratory illness such as asthma, bronchitis and even heart diseases.
Cigar smoking is more dangerous than cigarette smoking. A cigar is 'rich' in carcinogens and they emit far more carbon monoxide. Cigar smokers think that cigar is less problematic, as they are not inhaling it. But the smoke that is emitted out are equally harmful to the smoker as well as the people around.
As second hand smoke has to be avoided for more than a hundred reasons, the smokers at work, home, family and friends has to be persuaded to quit smoking. If this is not possible, take better action to keep away from such smoke and smokers. Cover the nose and mouth properly, during unavoidable situations to prevent the inhalation of such smoke.
Air- filters and the advanced smokeless ashtrays cannot remove the toxins from the smoke. The family members who are smokers has to be persuaded to think about the health risk they pose to others. A smoke free zone with good ventilation and more windows can be assigned at home, which should be strictly kept away by smokers.
If all the trials to give up smoking goes in vain, the easiest way is to send the smoker out of the house during smoking, whenever a cigarette is being lit. So that the other family members are not harmed.