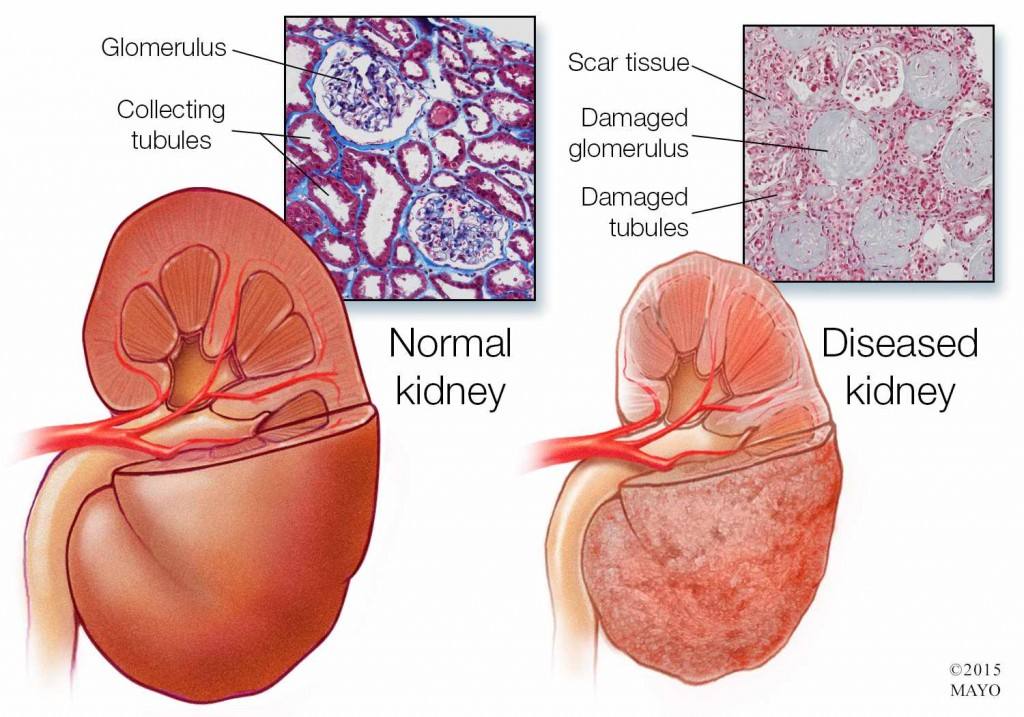 End stage renal disease
End stage renal disease is the final stage of chronic kidney disease. It means your kidneys no longer function well enough to meet the needs of daily life. Kidney disease is usually progressive. The length of each stage varies and depends on how your kidney disease is treated, especially in relation to your diet and whether your doctor recommends dialysis.
It is caused most commonly by diabetes and hypertension. If you have diabetes, your body can't break down glucose correctly, so glucose levels in your blood remain high. Having high levels of glucose in your blood damages your nephrons. If you have hypertension, the increased pressure on the small vessels in your kidneys leads to damage.
The symptoms of end stage renal disease include:
* decrease in how much you urinate.
* Inability to urinate.
* Fatigue.
* Malaise or a general ill feeling.
* Headaches.
* Unexplained weight loss.
* Loss of appetite.
* Nausea and vomiting.
* Dry skin and itching.
* Changes in skin color.
* Bone pain.
* Confusion and difficulty concentrating.
Other symptoms may include:
* Bruising easily.
* Frequent nosebleeds.
* Numbness in your hands and feet.
* Bad breath.
* Excessive thirst.
* Frequent hiccups.
* Absence of menstrual cycles.
* Sleeping problems, such as obstructive sleep apnea and restless leg syndrome.
* Low libido or impotence.
* Edema or swelling, especially in your legs and hands.
Consult your doctor right away if any of these symptoms interfere with your life, especially if you can't urinate or sleep, are vomiting frequently, or feel weak and unable to do daily tasks.