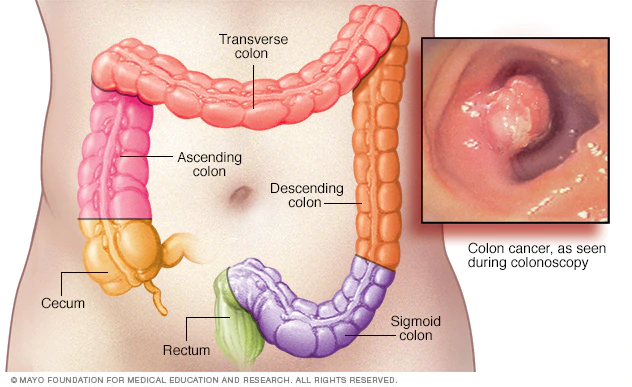 Colorectal Cancer
A cancer is the abnormal growth of cells that have the ability to invade or spread to other parts of the body. Colorectal cancer is the development of cancer from the colon or rectum. It is also known as bowel cancer, colon cancer or rectal cancer.
Colorectal cancer may not present any symptoms, especially in the early stages. If you do experience symptoms during the early stages, they may include:
* Constipation.
* Diarrhea.
* Changes in stool color.
* Changes in stool shape, such as narrowed stool.
* Blood in the stool.
* Bleeding from the rectum.
* Excessive gas.
* Abdominal cramps.
* Abdominal pain.
Colorectal cancer symptoms are more noticeable in the late stages such as stages 3 and 4. In addition to the above symptoms, you might also experience:
* Excessive fatigue.
* Unexplained weakness.
* Unintentional weight loss.
* Changes in your stool that last longer than a month.
* Feeling like your bowels don't completely empty.
* Vomiting.
If you notice any of these symptoms, make an appointment with your doctor to discuss getting a colon cancer screening.