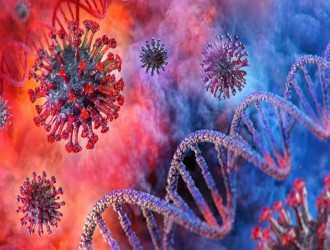 Can there be a possible Drug that targets enzymes that enable COVID to invade cells?
Researchers have found that the virus that causes COVID 19 has is facilitated by two enzymes present on the surface of human cells to invade them. The study suggests that the compound from these enzymes thus could be highly useful for the treatment.
It is a fact that virus pathogens can only invade cells and replicate in assistance of the host cells molecular mechanism, and SARS -CoV2 is no exception. Before the virus enters the host cell, an enzyme called proteases on the cell's surface is split open, the protein spike that gives the virus a crown-like appearance. The splitting shape allows the virus to enter inside the cell, exposing the binding sites. Since the spikes of the coronavirus contain three "Cleavage Sites," where proteases can split the protein, the virus can only enter the cell, which has the appropriate proteases.
Scientists at the University of California, Riverside's School of Medicine and the Sanford Burnham Prebys Medical Discovery Institute, in La Jolla, wanted to find out whether a compound that inhibits two particular proteases would protect cells from invasion by SARS-CoV-2.
Their findings have been published in the journal Molecules.
One of the previous studies had suggested that furin, one of the proteases, is used by some of the most pathogenic coronaviruses, which results in its easy spreading.
Compound 1 inhibits both furin and another protease, called TMPRSS2.
The scientists have argued that further research is required to develop compounds like theirs that inhibit both proteases. Alternatively, a cocktail of different protease inhibitors could also work, they argue.
The study authors cite two lines of evidence for their argument.
During their First, when scientists had genetically engineered host cells so that they were unable to make furin, this failed to stop the virus from infecting the cells.
But during their Second, when the authors of the present study looked at the peptide sequence of the SARS-CoV-2 spike protein, they found evidence that newly acquired mutations allow the virus to exploit both furin and TMPRSS2 cleavage sites.
They believe that these mutations may have given the virus the ability to infect a wider variety of tissues in the body.
Maurizio Pellecchia, a professor of biomedical sciences at the University of California, Riverside, who led the research team, mentioned that "SARS-CoV-2, unlike other, less pathogenic strains, can more efficiently use both proteases, TMPRSS2, and furin, to start the invasion of host cells. While TMPRSS2 is more abundant in the lungs, furin is expressed in other organs, perhaps explaining why SARS-CoV-2 is capable of invading and damaging multiple organs."