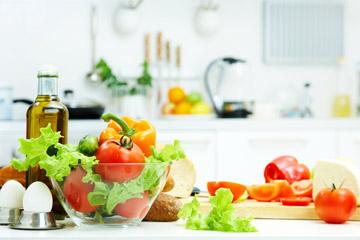 Weight Reduction
Is weight reduction right for you?Safe weight reduction takes time and effort, but by making lifestyle changes that incorporate proper nutrition and physical activity, you can lose and maintain your weight for the long-term.Physiology of weight reduction:
Tips for safe weight reduction:
- Keep a food and exercise diary. People who log their intake and activity tend to be more successful at weight loss.

- Eat a variety of plant-based foods, including plenty of fruits and vegetables. At each meal, cover one-half (or more) of your plate with vegetables, cover one-quarter with whole grains, and cover one-quarter with protein.

- Eat regularly timed meals (especially breakfast) and snacks because skipping them can lead to overeating later in the day.

- When you feel like you have eaten enough, stop.

- Often cravings disappear, so if you still feel hungry or unsatisfied after a meal or snack, wait at least 10 minutes before you have more food.

- Plan meals and prepare snacks ahead of time. Snack on fresh vegetables for crunch and fresh fruits to satisfy your sweet tooth.

- Limit the amount of alcohol (beer, wine and liquor) that you drink.

- Try to limit screen time (computers or television) to two hours or less per day. Increase physical activity instead.

- Sleep 8-8.5 hours per night. Studies show that lack of sleep is linked to obesity.

- Eat your favorite high-calorie foods like desserts less frequently and in smaller portions (you don't have to eliminate them altogether).

- Know your daily calorie and serving size "budget." Any weight reduction plan should include more than 1400 calories per day. Take care when eating out, because restaurants are notorious for large serving size.
Mindful eating:
- Pay attention to what you eat. Sit down and savor the taste, texture, aroma and appearance of food. Al foods may be enjoyed in moderation.

- Honor your hunger. Hunger pangs are your body's way of saying that it needs energy. If you are hungry, eat. Ignoring your feelings of hunger often leads to overeating later.

- Cope with emotions without using food. Tune into your feelings and reward (or comfort) yourself through other activities.
Physical activity:
Regular physical activity has many benefits. It can help with losing and maintaining weight; increasing Resting Energy Expenditure (REE); strengthening, toning and shaping muscles; and improving mood. Three types are recommended:
- Aerobic exercise

- Strength-training

- Flexibility
Maintaining your new weight:
To maintain your new weight, you need to make sure that you are burning off as many calories as you are consuming. You may need to experiment with the amount of food you need to maintain your current weight. Make sure you keep exercising regularly and eat plenty of nutrient-dense foods.
Less safe methods of weight loss:
Before trying a new diet, consult a clinician or dietitian.