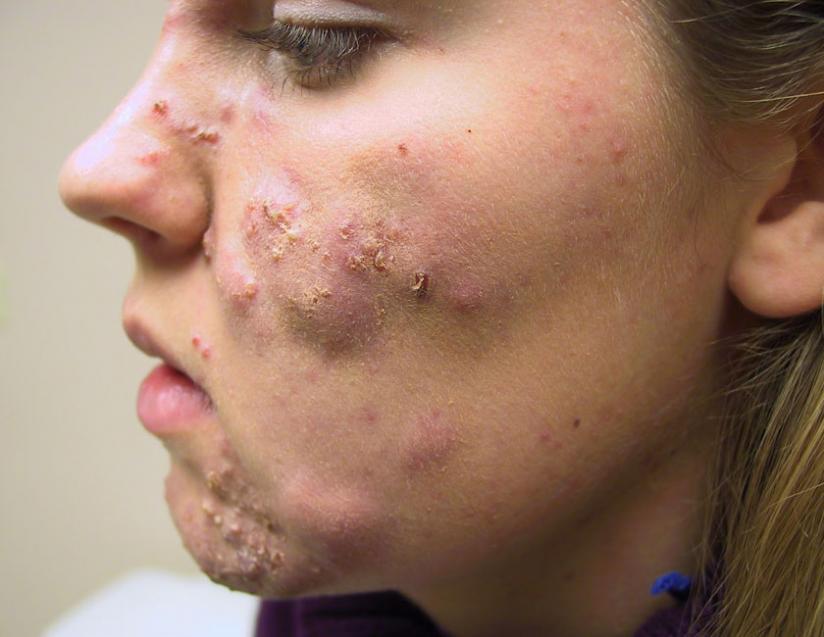 Acne
Acne is one of the most common skin problems, affecting about 90% of all people at some time during their life. While acne usually occurs in adolescence and young adulthood, it may be troublesome well into the 20s, 30s and even 40s. Misinformation about acne often prevents proper treatment. Many people do not seek the advice of a clinician because acne is common and will "probably go away by itself." While this may be true, much cosmetic damage and psychological anguish can be avoided if acne is controlled from the start.

Causes:
Pores and hair follicles can become plugged for a variety of reasons.
Hormones:At puberty, the body begins producing more androgen-type hormones, which cause the sebaceous glands to enlarge and produce more sebum. Because males produce more androgens than females, they tend to have more severe cases of acne.

Heredityinfluences the size and activity of the sebaceous glands. The larger and more active the glands are, the greater the chance of developing acne.

Bacteria:;Normal skin bacteria (e.g. Propionibacterium acnes) can act upon sebum to produce irritating substances, resulting in inflammation when the substances are released into surrounding skin.
Other contributing factors and self-care:
For those with a few blackheads or pimples, washing the face gently with a mild soap 2-3 times a day may be enough. However, excessive cleaning can make acne worse. Also, non-prescription products with benzoyl peroxide have an antibacterial and drying effect and help unblock pores to prevent formation of lesions.

Certain foods, such as chocolate and colas, do not cause acne as was once believed. However, if you feel certain foods aggravate your acne, avoid those foods.

Certain cosmetics, hair care products and moisturizers may block pores. Check labels and choose products that are water-based, oil-free and non- comedogenic (won't clog pores).

Oily hair may contribute to clogging the surface of pores, so shampoo hair regularly.

Do not pick or squeeze blackheads, whiteheads or pimples, because this can cause infection, increased inflammation and scarring.

Emotional stress may worsen acne.

Excessive humidity may make acne worse.

Certain drugs, especially steroids or those containing iodine, may affect acne. Talk to your clinician about side effects and treatment options.

Onset of menstruation, for some women, increases acne.

Treatment If you've tried over-the-counter (nonprescription) acne products for several weeks and they haven't helped, your doctor can prescribe stronger medications. A dermatologist can help you: