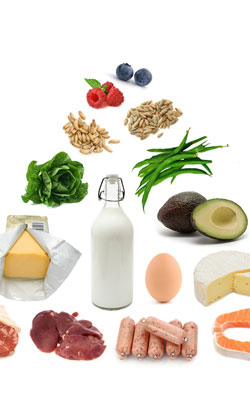 Micro mineral – Iodine
Iodine is one of the essential micro nutrients required for normal growth and development of the human brain and body. The body contains a total of 15 to 33 mg of iodine content. Over 75 percent of this is found in the thyroid glands. The rest is distributed in the salivary, mammary, gastric glands and the kidneys.

Functions:
Iodine plays an important role in the synthesis of T3 and T4 thyroid hormones. The thyroid hormones play a major role in regulating growth and development. They can stimulate the metabolic rate by as much as 30 per cent, resulting in an increased rate of oxygen use and increased generation of heat.The activities of the thyroid hormones are critical for the normal development of the brain. They increase the proliferation (growth and multiplication) of brain cells and regulate other processes involved in the brain function.

Sources:
Certain fishes contain iodine, such as marine fish, shellfish, etc. Only some particular types of fish which are occasionally seen in the sea-coast contain more iodine than freshwater fish. The iodine content in egg is about 50 micrograms/100 gms and is concentrated more in the white portion.In a non-endemic area (a specific area where something is scarce) 60-70 per cent of iodine needs are met by the iodine present in the diet and iodine content of water.

The iodine content of food is lowered by cooking processes. Frying reduces the iodine content content by 20 per cent, grilling by 23 per cent and boiling by as much as 58 per cent.Animal products such as milk, meat or eggs are much richer in iodine when they come from animals consuming iron rich foods. Other sources of iodine are legumes and cereal grains.
Iodine deficiency disorders:
IDD's are caused due to the lack of iodine content in the body. A wide variety of physical and neurological disorders associated with iodine deficiency are are called 'iodine deficiency disorders'. It is now recognized by WHO as the most preventable cause of brain damage in the world today.For example diseases like goiter, cretinism, hypothyroidism, impaired mental functions, etc.

Some of the factors responsible for IDD are classified as:
1. Environmental factors-
Iodine exists in nature in large quantities. Seawater has iodine ranging from 50-60 micrograms/L . This iodine containing water gets into the soil in the form of rain which enriches the top level of the soil with iodine. Hence, food crops which grow in this soil and similarly animals who graze on this plants and crops have iodine content in them.

2. Goitrogens:
Goitrogens are substances that interferes iodine metabolism. They are present in tapioca, sweet potatoes, cassava, soya beans, etc. The action of goitrogens may become inactive after cooking. People who live in goitrous areas should avoid goitrogens. Whereas people who reside in non-goitrous areas can include goitrogens in moderation. Goitrogens cannot be used as a staple food.

Iodine fortification:
Fortification is the process of enrichment of food by adding nutrients, vitamins and certain trace elements. Common salt has been selected as a suitable vehicle for fortification of iodine to control IDD. The technology involved in fortification of salt with iodine is simple. It involves either by dry mixing, spray mixing of salt with iodine source. It is the most economical, convenient and effective way of fortification.